"Every pastor should read this book! It's fresh and relevant. And most important, it'll make you believe that you really can become the person you want to be."
Stan Toler, General Superintendent, Church of the Nazarene
Fellow Christ Follower, Have you had the feeling that there should be something more to the Christian life? Perhaps you have  wondered, "Why does the church seem more like the world than like Christ?" Shouldn't we be different?
You are not alone!
Business as Usual Is Not an Option
People hunger for authenticity. Christians are filtering out of the church—and sometimes away from the faith—because they don't always find authentic Christlikeness there. Young and older people alike are tired of Sunday-only religion that doesn't address the real issues that people face. I wrote this book for—
Pastors – who seek the courage to preach truth
Church Leaders – who hunger for authentic leadership
Parents – who desire to model radical obedience for their children
Teens – who want more from their faith than sound bytes an


d slogans

Christians – who are bored with church
Seekers – who believe there must be authentic spirituality somewhere
This is a message for every Christian who hingers for significance, holiness, purity, integrity, and commitment.
You Don't Have to Be a Superstar to Live Like Jesus
For years we've had the idea that true Christlikeness was available only to a few. That wasn't Jesus' idea. He modeled a new way of living and invited everyone to join him. Jesus didn't say "repeat after me," as though the Christian faith were a matter of memorizing doctrine. He said "follow me," because he showed us a new and different way to live—and you really can do it! I sincerely believe this message will inspire you—
Recognize the inner barriers that keep you from pursuing Christ wholeheartedly
Find the courage to overcome fear and embrace faith.
Discover the pathway to holiness, no matter how many times you have tried and failed.
Live your faith boldly
This book is filled with engaging stories, biblical teaching, and convicting application will inspire you to live differently.
"Every so often a fresh voice comes along, someone who penetrates the fog and commands attention … This is a writer we need to listen to."
James L. Garlow, New York Times Best-Selling Author
 Join the Revolution
Jesus came to start a revolution. He called this new and different way of living the Kingdom of Heaven, and you can read about it in the Sermon on the Mount (Matt. 5–7).
I wrote this book using this foundational teaching of Jesus as my outline, and the entire text of his powerful sermon is included in the book. When you join this conspiracy to change the world, I'm convinced you will experience:
Clarity  –  as you come to see life as Jesus intended it.
Freedom  –  to abandon the "safe" version of Christianity that many settle for.
Purpose  –  that comes from living by faith and following Jesus with no reserves and no regrets If you are looking for that kind of Christian experience, this book was written just for you.
I don't believe Jesus intended his followers to live tentative, boring lives based on half-hearted belief. I think he wanted to transform people who would transform the world.
"If you appreciate straight talk, you'll love this book. If you've invested in creating defenses for passionless Christianity, you'll hate it. Either way, it'll make you think."
Steve Moore, President and CEO, Evangelical Fellowship of Mission Agencies
 14 Compelling Stories to Inspire Your Faith
A Different Kind of Crazy consists of 14 easy-to-follow chapters that are filled with personal stories and challenging teaching based on Jesus' Sermon on the Mount. You'll read about—
Albert Harkema, the Sunday school teacher  who harbored a dark secret
Alberto, the African man who saved the life of the woman who sold his daughter into slavery
Mrs. Mitchell, the indecisive saint whose hilarious attachment to her television set taught my father the meaning of surrender
Joey Stanley, the hero of my Little League team, who had a Roman catapult in place of his right arm
Fred Havner, the playground bully whose surprising tenderness became a lasting image of tolerance for my  fifth-grade class
Dan Angelo, the church elder who could face any challenge except the failure of his only son
Each of these stories, and many more, bring the principles of Scripture to life and inspire you to follow Jesus boldly. They will give you motivation and insight for living as Jesus lived.
"Thanks a lot, Larry—you've taken away all our excuses for not forgiving others of giving generously or caring for god's creation. What's next, turning the other cheek?"
Allison Bottke, Creator of God Allows U-Turns
Grow Deeper in Christ and Influence Those around You
The best way to learn from reading is to share the experience with a group of friends. That's why I included a free small-group study guide within this book. Hearing the reactions and insights of others—and sharing your own—will be a tremendous boost for your own spiritual growth.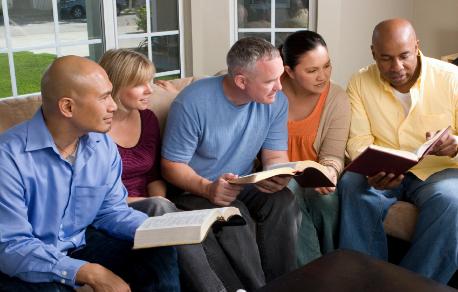 The four-session guide includes five easy-to-use features—
Simple instructions that anyone can use to guide a group
An ice-breakeer question to help your group get into the topic
Simple content questions that help you understand the subject
Engaging process questions that help you explore the implications of each idea
 Challenging application questions that lead you to make transformational life changes
The built-in A Different Kind of Crazystudy guide is perfect for—
Small groups
Sunday school classes
Church-wide reading campaigns
 Sermon-based discussion groups
Book clubs
Mentoring groups
One-to-one discipleship
Men's or women's Bible studies
Don't keep this message to yourself. Share it with your family, your small group, and your church.
If You Are Serious about Living Like Jesus
Business as usual is not an option. If you are serious about living like Jesus, put that faith into action today. Now is the time to act on your impulse to leave the past behind and follow Jesus into this new, different way of living called the Kingdom of Heaven. I believe that when jesus told people to turn the other cheek, trust God completely, love their enemies, and even walk on water, he actually thought they could do it. So do I. Call me crazy, but I am going to try.
What would your life look like if followed Jesus with no reserves and no regrets?
"If you never want anything more excellent out of your quality of life, you need to put this book down, walk away now, and go eat a stale white bread and mayonnaise sandwich because that's the best it will ever get without this Jesus kind of crazy."
Vijoya Chappelear, Television Host and Producer